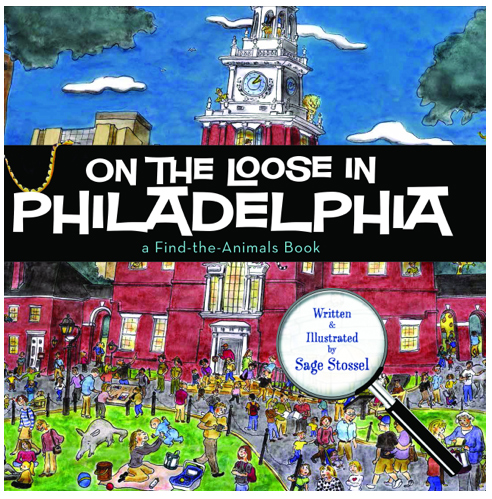 Cartoonist Sage Stossel created her "Find-the Animals" bestseller On the Loose in Boston in 2009, in which animals from Franklin Park Zoo escape and show up in settings from Fenway Park to Faneuil Hall. She followed it with On the Loose in Washington, D.C. in 2013, when the National Zoo's animals got the same idea, and cavorted around our nation's capital from the White House to Capitol Hill. Next stop? The City of Brotherly Love! Children will have hours of entertainment finding the Philadelphia Zoo animals in On the Loose in Philadelphia—whether a monkey at Independence Hall, a kangaroo at the art museum, or a hippopotamus at a Phillies game! Over 100 animals are hiding cleverly in favorite Philadelphia locations in this colorfully-illustrated rhyming picture book.
Recommended by Mommy Nearest Philadelphia as one of 10 Books All Philly Kids Should Have on Their Shelves.
[Click here to buy the book.]
Also visit the On the Loose in Philadelphia web site for Philadelphia pictures to print and color, ideas for things to do with kids in Philadelphia, and more.
(Also see On the Loose in Boston and On the Loose in Washington, DC, or the graphic novel Starling.)