I'm excited to announce that my new children's book, On the Loose in New York City is out today!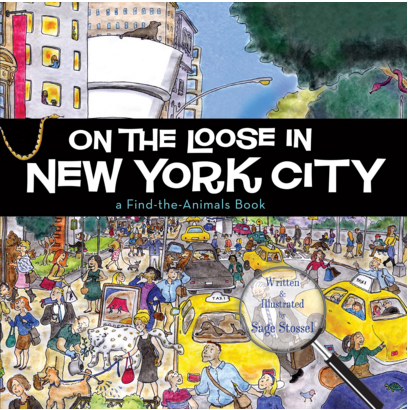 Book description:
Prize-winning cartoonist Sage Stossel has created her fourth Find-the Animals book with On the Loose in New York City. Children will have hours of entertainment finding the Central Park Zoo animals out and about in Manhattan—whether a monkey on Fifth Avenue, a sea lion at the Natural History Museum, or a snow leopard in Times Square! Over 100 animals are hiding cleverly in favorite New York City locations in this colorfully-illustrated, rhyming picture book.
[Click here to buy the book.]
Also, for New York City pictures to print and color, things for kids to do in NYC, and more, visit the On the Loose in New York City web site.
(Also see On the Loose in Boston, On the Loose in Washington, DC, and On the Loose in Philadelphia, or the graphic novel Starling.
On the Loose in Boston was selected in 2016 by Boston Mayor Walsh for his suggested Youth Reading list )